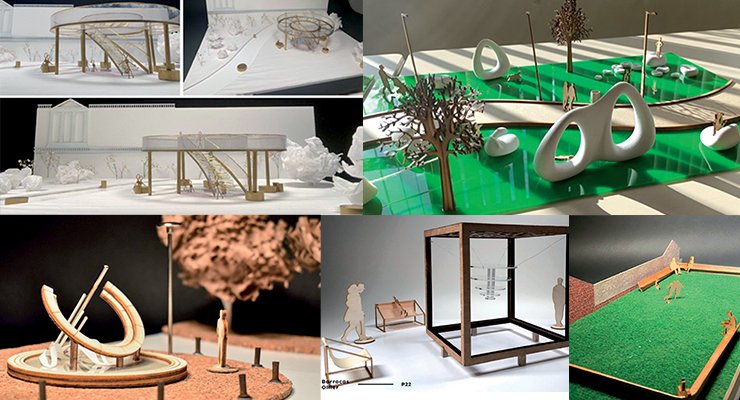 Last spring, as part of UTC's IDI-Di03 CC, (indus­tri­al design work­shop), Vic­tor Lherm-Soulas, a stu­dent in urban engi­neer­ing, togeth­er with Lucas David, a stu­dent major­ing in mechan­i­cal engi­neer­ing, designed a space for the city of Com­piègne. The result is a scenog­ra­phy that res­onates with the place to form a mean­ing­ful whole.
As part of the IDI course, Indus­tri­al Design Engi­neer­ing, Mechan­i­cal Engi­neer­ing spe­cial­ty, Vic­tor Lherm-Soulas imag­ined and designed a ter­race for a spe­cif­ic pub­lic place on the banks of the riv­er Oise, inte­grat­ing a reflec­tion on its aes­thet­ics, its mate­ri­als, its func­tions and its asso­ci­at­ed uses. The project con­sists of a large wood­en deck ter­race with a diam­e­ter of 30m, struc­tured in two cir­cu­lar spaces marked by dif­fer­ent deck­ing: a space in the cen­tre for music and danc­ing, and around it, a space with tables of dif­fer­ent sizes. And a "cen­tral­i­ty" around a kiosk which is the sup­port of all the life brought by this project. «It was car­ried out as a com­mis­sion from the ARC, the agglom­er­a­tion of the Greater Com­pieg­ne region, which want­ed to com­mu­ni­cate, make vis­i­ble and tan­gi­ble the dynamism of the agglom­er­a­tion on the eco­nom­ic, cul­tur­al and envi­ron­men­tal lev­els. This is a fic­ti­tious project. The aim is that the result should go pass the test of time and blend in with the sur­round­ing land­scape,» explains Anne Meuleau, a lec­tur­er in indus­tri­al design at UTC, accom­pa­nied in the project by the BLAM work­shop. This com­pa­ny in the urban fur­ni­ture sec­tor explores the design­ers' abil­i­ty to see the world and imag­ine the world of tomor­row. «Aurélien Mey­er, co-founder of the BLAM work­shop, accom­pa­nied us by build­ing the brief with me, giv­ing his expert opin­ion to the stu­dents, as much on the aes­thet­ic, seman­tic, poet­ic and sym­bol­ic aspect, as on the prag­mat­ic aspect of the projects, the use, the man­u­fac­tur­ing and the implementation.»
Creativity as a lever
Accord­ing to Vic­tor Lherm-Soulas, today the engi­neers are giv­en an advi­so­ry, even lim­it­ing role. He/she knows the tech­ni­cal aspects, so he is con­sult­ed to find out if it will work or not. He/ she writes tech­ni­cal spec­i­fi­ca­tions, trans­lates archi­tec­tur­al inten­tions into tech­ni­cal plans, checks com­pli­ance with the reg­u­la­to­ry frame­work, and pro­duces tech­ni­cal stud­ies. «It is ter­ri­bly sad to see that the cre­ative role of the engi­neer has been large­ly lost, the most strik­ing tes­ti­mo­ny to which in his­to­ry is undoubt­ed­ly Leonar­do da Vin­ci, who for­got that the first engi­neer­ing school, Les Ponts et Chaussées, was found­ed on the mod­el of a school of archi­tec­ture. The his­to­ry of the engi­neer­ing pro­fes­sion is also close­ly linked to design and the craft that pre­ced­ed indus­try,» con­tin­ues Vic­tor. "For me, it is a ques­tion of reviv­ing this her­itage and con­sid­er­ing tech­ni­cal and reg­u­la­to­ry con­straints no longer as obsta­cles but as cre­ative levers. This is what should guide our way of mak­ing the city".
Imagining attractive urban furniture
The stu­dents came up with tar­get­ed, unique and unex­pect­ed answers. 3D mod­el­ling enabled them to devel­op an idea by push­ing it to the lim­it, in terms of details and fin­ish, by inte­grat­ing some man­u­fac­tur­ing con­straints, while pro­duc­ing real­is­tic images of the projects, with inte­gra­tion of the fur­ni­ture in its con­text. «The objec­tive is to re-enchant pub­lic places, by cre­at­ing a col­lec­tive, by bring­ing con­vivi­al­i­ty and inter­ac­tion. To offer beau­ty, pos­i­tiv­i­ty, won­der, plea­sure and emo­tion. If pos­si­ble, inte­grate the eco-respon­si­ble dimen­sion,» assures Anne Meleau. "We are hop­ing for a pos­i­tive response from the Com­piègne town hall to exhib­it the mod­els there and show the projects to the mem­bers of the Arc. Through their abil­i­ty to under­stand and analyse, to think about the mean­ing of what they are doing, to inte­grate all types of con­straints and tools, to be cre­ative, but above all to put the human being who uses the devices at the cen­tre, engi­neers have their place at all lev­els to par­tic­i­pate in the cre­ation of the city of the future".